US Army Transportation Corps

Military Railway Service WW II

Folios/Blueprints of railroad equipment:

US Army Equipment Data Book

as used in North Africa, UK, ETO, Middle East, & Alaska 

A Modeler's Reference

Edited & restored by Tim Mulina

This book is bound so that it

lays flat and has heavy duty,

cardstock paper covers and is

8 1/2" wide and 11" tall.

Sample pages are below.

MSRP $29.99 + s&h

This book has 84 pages with 245 folios.

This book was something that the MRS had

on hand for their crews operating the trains and the shops in the areas concerned.

The drawings are essentially blueprints that a skilled craftsman such as their crews were already, could recognize, repair, and service equipment that was in service. Many of the pieces of equipment were captured/liberated French, Italian, and German railway items and many were made in the US for military service.

Included are Locos, freight, & M-O-W cars, First Class and other ranks passenger cars, General officer's trains as well as cars assigned to Hospital trains and even special

use cars such as delousing. There are

also floorplans of the cars used as mobile shops for the railroad operations.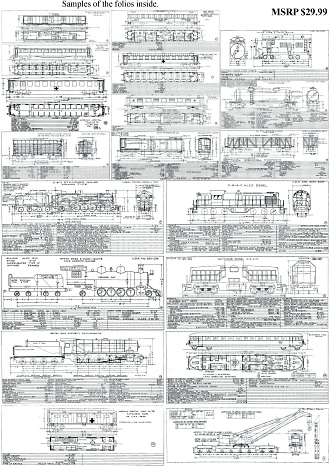 Below are some sample pages from the book.

Because of the actual USPS shipping costs, we highly recommend getting more than 1 book/title at a time. If there is no
"Add-To-Cart"
button on a specific title's webpage, contact us directly at:  
[email protected]
to add any of them to your order.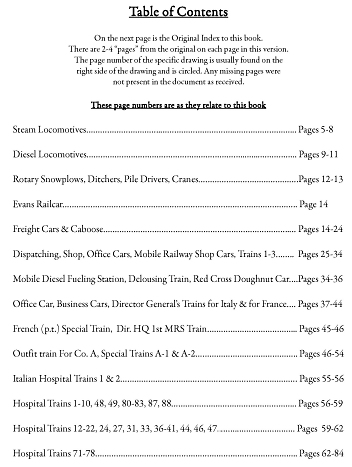 Back cover

to the left.

Table of

Contents

to the right

This shopping cart button gives the correct shipping to US addresses only. For current shipping rates outside the US please contact us at
[email protected]
or consult the USPS.com website. It will be shipped in the Medium Sized Flat Rate Priority Mail package.