Denver & Rio Grande Western

Steam & Diesel Locomotive

Folio Diagrams 1949 through 1964

(Also includes Steam Generator Cars 250-251 and 9 std. gauge cabooses)

A Modeler's Reference

Edited & restored by Tim Mulina, BHI Publications

This book has heavy duty, laminated cardstock covers and is 8 1/2" wide and 11" tall.

Sample pages are below.

MSRP $34.99 + s&h

This book has 104 pages with 109 folios.

This book is a compilation of a number of years of the folio books that the

Rio Grande had on hand for their crews operating the trains and the shops in

the areas concerned. Because so much was duplicated from year to year,

this book shows the variations if any between 1949 and the end of service

(or 1964) for the specific classes shown. Due to the poor quality of

the originals, many of the folios required redrawing or editing

The drawings are essentially blueprints that a skilled employee could recognize, repair, and service equipment that was in service. Many of the pieces of

motive power were originally ordered/built for other roads and just ended up here.

Included are yard goats and mainline steam; units bought second hand or just in operation due to the war requirements that had still not been returned to their original owners and 1st & 2nd Generation diesels. It also includes the remaining

3' gauge steam locomotives that were in operation after the end of WW2. Even the two steam generator cars used with the Ski Train and some cabooses are shown.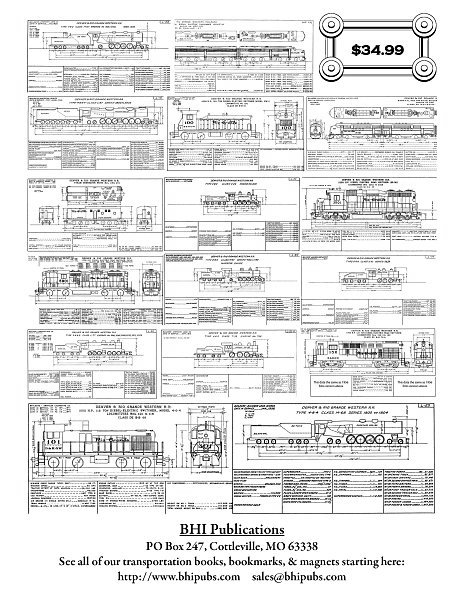 Below are some sample pages from the book.

Because of the actual USPS shipping costs, we highly recommend getting more than 1 book/title at a time. If there is no
"Add-To-Cart"
button on a specific title's webpage, contact us directly at:  
[email protected]
to add any of them to your order.

This shopping cart button gives the correct shipping to US addresses only. For current shipping rates outside the US please contact us at
[email protected]
or consult the USPS.com website. It will be shipped in the Medium Sized Flat Rate Priority Mail package.